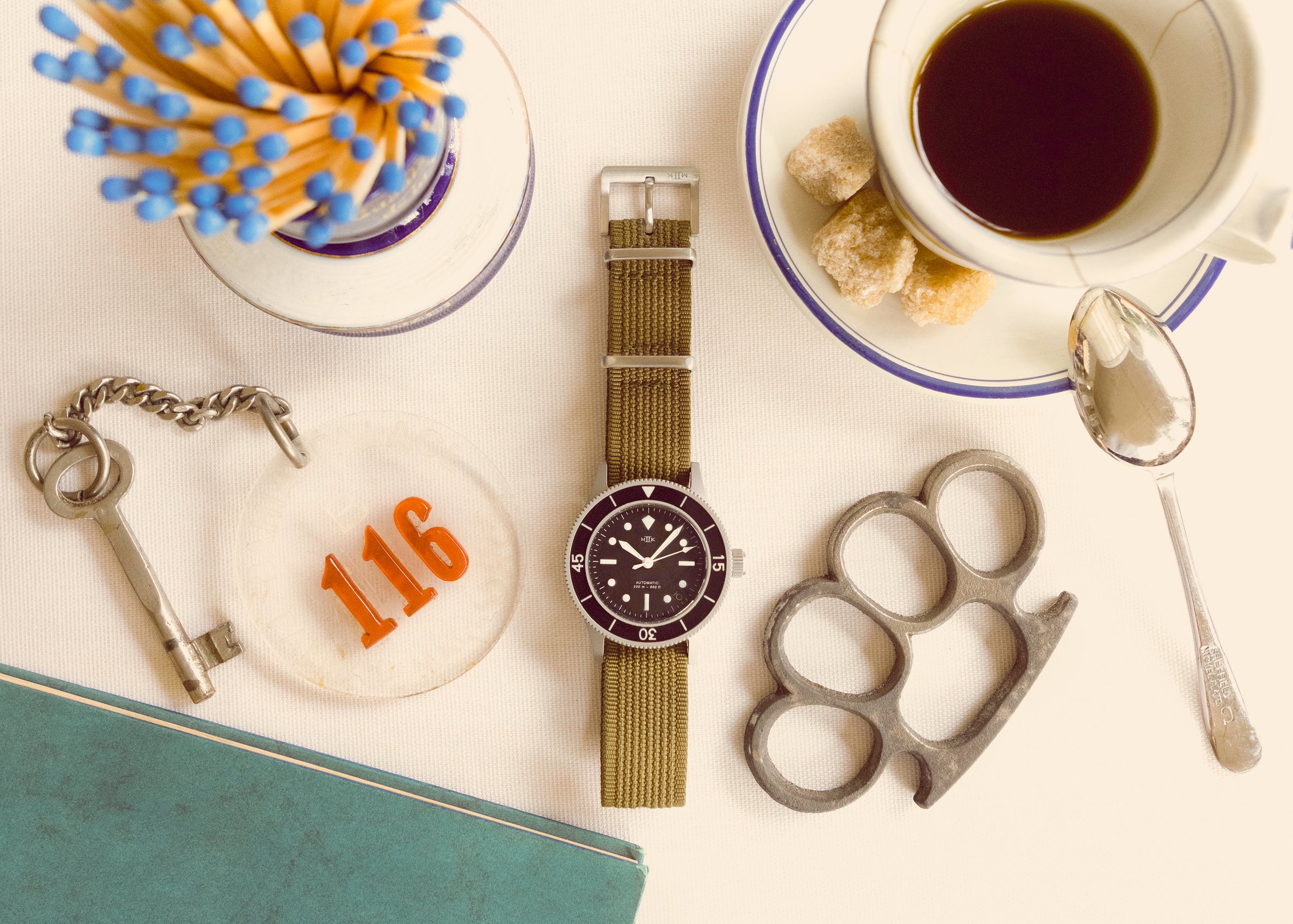 Past, present, and future
The Stingray was only the third watch that Mk II ever produced, and only the second dive watch. It was our homage to the incredible Marine Nationale issued 50s design, a design which we have been infatuated with since our watch journey began in the late 90s. During the early years of our interest in watches we were drawn to a watch made by a no-name Swiss company that looked the part of the iconic 50s diver, but ultimately left us disappointed. While at first glance it looked promising, it hadn't sweat the small stuff… It's aluminum bezel inlay lacked a luminous marker at 12 o'clock and the case was only water resistant to 3 ATMs (30m). Hardly a fitting tribute to one of history's most iconic and innovative dive watch designs, and certainly not a watch that could be worn with any conviction. These kinds of watches were hardly unique at the time. While frustrating, this delta between reference watches too rare or valuable to wear as intended and "homages" that failed to live up to the ethos and intent served as a catalyst in starting Mk II. Nearly two decades have passed since then, but after a long hiatus we submit to you as the next addition to the Mk II line, the Stingray II - Keroman.
So why does this design have such a hold on us? It's the connection to the breaking of new ground and frontiers colliding with a watch design that was nearly perfectly conceived from the beginning. The design takes us back to the days when air travel was glamorous, scuba diving was cutting edge and extreme, and after years of war and economic desolation when people hardly traveled, suddenly the world felt more accessible than ever. The possibilities and sense of optimism was palpable. Limits felt bound only to be broken. The future was meeting the present in real time. For the Stingray II we sought to channel this mindset and energy emblematic to the heady post-war years. The design a vehicle to connect us to an enigmatic piece in a larger puzzle. To manifest the layered experiences that add up to and shape a person. A distinctive spirit that marks him out as someone that isn't from around here…but you can't be quite sure. Do you know him? Or maybe you knew a previous version, the person he once was? We are all a function of that which has passed us, and what we have journeyed through. Relive it, run from it, leave it, leverage it, or hold it tightly…Our past shapes our future. Our future becomes our past.
His spirit clearly communicates an experience and confidence that needn't be spoken. While times are better (different) now and life is certainly more comfortable, there are reminders, markers, of what he's experienced and overcome. Of hard times with hardened people. A tangible reminder that he could do it again if called upon. He's a captivating sum of keepsakes acquired through places been and things done. With an attentive eye, his appearance alludes to the story of his collective experience. The smock recalls a time of camaraderie and a closeness to your fellow man forged only through the crucible of deep interdependence for survival and success. The Stingray II that accompanied him through those times speaks to hard earned expertise and a specific combination of independence and self-reliance. The knuckles of games with high stakes in places of questionable repute. But that was in the past, the Observer Collections jeans in white and the American Trench sweatshirt imply a transition to more urbane pursuits. Softer edges on a hard man, yes. But, only a fool would be lulled by them.